TRUST IS EVERYTHING
As an Official Land Rover Importer since 1948 and a Franchised Jaguar Dealer we are proud to let our past and present tax free customers have their say on their vehicle purchase.
Mr Gordon Sellors, thank you for sending us a picture after receiving your Jaguar XF
Capurro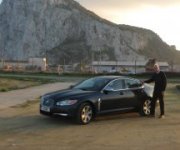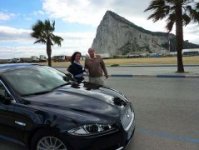 I want to thank everyone at A M Capurro for excellent service they gave me on the purchase of my Jaguar car. The car was waiting for me on arrival at Gibraltar. Over a cup of coffee they gave me all the required documentation for the car. I went into their workshop and they gave me instructions how to drive the car. A charming lady drove my car though the border into Spain and dealt with all the required documents at the border. The customs officer even opened up a barrier so we could drive straight into Spain without waiting in a long queue. When I was in Spain the car was handed over to me. I was very impressed by the service I was given. I will recommend you to all my friends. Once again many thanks for all your help.
Best Wishes from a very grateful customer!
David Turner
Mr Francis Silver, thank you for sending us a picture after receiving your Jaguar XF
Capurro