Official Jaguar Importer
Welcome to the tax-free sales division of A.M. Capurro Gibraltar, Jaguar Importers for Gibraltar. We have many years of retail experience serving the needs of our international customers.
Our motoring heritage dates back to the 1920's and even today we continue to enjoy relationships with our current manufacturers that date as far back as 1948. These long established links mean we are able to provide our customers an outstanding level of service by offering accurate and timely information direct from the factory.
Our treatment with clients is refreshingly personal and our continued success is testimony to our dedication and professionalism. We very much hope that we will have the opportunity to welcome you as a Capurro customer and to those who already deal with us, we thank you for helping us towards our goal of being a company worthy of your friendship and business.
TRUST IS EVERYTHING
As an Official Land Rover Importer since 1948 and a Franchised Jaguar Dealer we are proud to let our past and present tax free customers have their say on their vehicle purchase.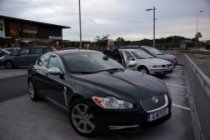 "
Capurro
Mr Francis Silver, thank you for sending us a picture after receiving your Jaguar XF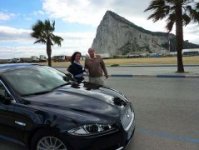 "
David Turner
I want to thank everyone at A M Capurro for excellent service they gave me on the purchase of my Jaguar car. The car was waiting for me on arrival at Gibraltar. Over a cup of coffee they gave me all the required documentation for the car. I went into their workshop and they gave me instructions how to drive the car. A charming lady drove my car though the border into Spain and dealt with all the required documents at the border. The customs officer even opened up a barrier so we could drive straight into Spain without waiting in a long queue. When I was in Spain the car was handed over to me. I was very impressed by the service I was given. I will recommend you to all my friends. Once again many thanks for all your help. Best Wishes from a very grateful customer!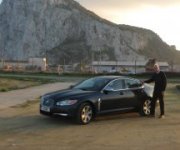 "
Capurro
Mr Gordon Sellors, thank you for sending us a picture after receiving your Jaguar XF